A model to match every requirement
There are two processes available: the standard process with Contraplex pin mill and ATP air classifier and the precision process with ZPS air classifier mill and as well ATP air classifier:
The goal of the two mills is the same: to grind the dehulled endosperm structure into its main components – starch and protein – without destroying their structure. 
The Contraplex CW II wide-chamber mill is suitable above all for grinding fatty and/or fibrous products. The strengths of the ZPS classifier mill come to the fore especially when the fibre content is low and the aim is to achieve high protein values and yields. 
Raw materials for the process of dry fractionation are among others wheat and pulses such as faba beans or peas. In the subsequent classification process, an ATP Turboplex classifier separates the ground material into two fractions: a low-protein, coarse fraction and a highly protein-enriched, fine fraction.
Dry protein-enrichment process as an environmentally friendly method
The protein-shifting process makes it possible to produce vegetable proteins as an alternative to animal proteins, thus paving the way for new market opportunities. Further advantages of the dry fractionation process are the low energy and water requirement in comparison to conventional wet processing. The high-precision process thus constitutes an environmentally compatible process for tapping new protein resources.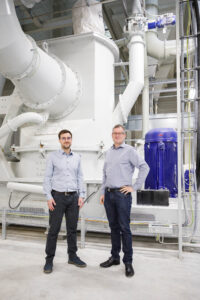 Meet us at #Interpack
When the global packaging industry meets in Duesseldorf, when innovations along the entire value chain are presented and the top trends are discussed, then it is Interpack.
We have exciting and forward-looking topics in mind. Visit the Hosokawa Micron Group from 4 – 10 May 2023 in Hall 4, Stand C 60. We are looking forward to meeting you!
Do you want to make an appointment with our experts at Interpack? 
Then click on the button below and send us an email.