For a new compact series of VEGAPULS radar sensors based on 80 GHz, the company has developed an even smaller radar microchip than the existing one. This means that cheaper solutions will also be available in the future, but without sacrificing quality, resulting in a significant expansion of the range of possible applications. Several existing ultrasonic sensors can thus be replaced by better radar sensors in the future. With radar, measurement and interference signals can be better separated by focusing the transmitted signal more precisely. As a result, the overall measurement is not only much more reliable, since it is less dependent on external conditions such as temperature fluctuations or contamination, but also easier to handle. For the customer, this means significant improvements, especially for liquids and bulk solids, and for Vega, considerable growth potential. There will be a compact version with a cable connection compartment as well as a version with a fixed cable connection (IP68) and output signals of 4…20 mA, HART, SDI-12 or Modbus are available.
As an option, this new VEGAPULS series can be supplemented by new VEGAMET control instruments which offer advantages especially in the water and waste water industry, e.g. a large graphic display combined with the possibility of visualising all measured values.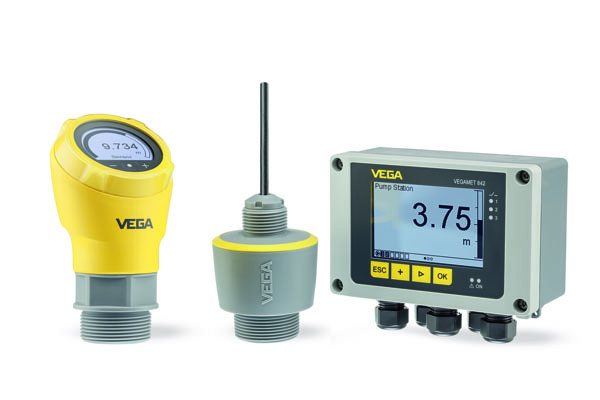 New radar sensors VEGAPULS, left: with cable connection compartment, centre: with fixed cable connection, right: control instrument VEGAMET
Wireless and easy operation
Sensors and control devices can be conveniently adjusted and operated via Bluetooth via the smartphone or tablet, an advantage especially for areas that are difficult to access. Both will be launched on the market from January 2020 and are also characterized by easy commissioning.
Limit switches and pressure sensors for hygiene and safety
For hygiene-sensitive processes, such as in the food and pharmaceutical industries, the new VEGABAR pressure sensors and VEGAPOINT level switches for standard applications are now available on the market. They are less expensive without compromising quality, can be flexibly adapted to the versatility of the processes and keep costs and inventory at a reasonable level if the Plics series is oversized and therefore too expensive.

The new pressure sensors with switching function VEGABAR and the capacitive level switches VEGAPOINT are perfectly tailored to standard applications. A highlight is the 360° switching status indication, which can be selected from 256 colours and quickly detected from all directions.
Monitoring made easy
A 360° switching status display is now available as a highlight for detecting the measuring process or possible faults at a glance, with a luminous ring in 256 selectable colours.
IoT revolutionizes logistics, production and sensors
For the optimization of logistics and the entire supply chain in the process, the networking of all data from goods and IT infrastructure will offer much untapped potential and opportunities for achieving competitive advantages in the future. With the new autonomous level sensors AURA based on 80 GHz radar technology, VEGA will launch a series in mid-2020 that is suitable for data collection from sensors in places where there is no direct access to the power supply. During development, Vega paid particular attention to energy efficiency, so that the battery will last up to 10 years if level and position are transmitted to the cloud twice a day by radio. The wireless sensors are flexible and inexpensive and can be easily and safely installed via plug-and-play and reliably measure levels from the outside for storage containers even with aggressive substances.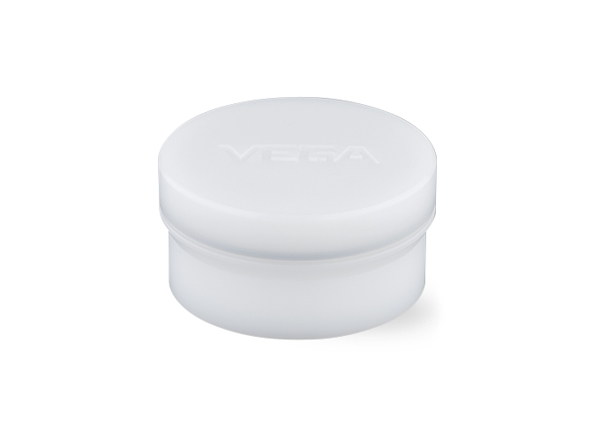 IoT/ digitalisation with smart sensors: New stand-alone VEGA radar sensors for level measurement in logistics processes where no power is available from the power socket
Level measurement for IBC containers
Simply mounted, the AURA sensor can remain on the container for a long time and report the respective status, regardless of whether it is in the company or on the transport route.
Advantages of this multicommunication model
It is also possible to connect with data retrieval from anywhere, whereby the NB-IoT and LoRa standards are currently supported. At the same time, future standards can be easily implemented. Due to the additional possibility of using the Vega Inventory System, the software can determine optimal order quantities and future planning targets on the basis of the determined data. Because the data can also be integrated into other systems, there are further smart options.
The company is currently building an additional complex in Schiltach for expansion at a cost of around EUR 35 million, because "we are in a stable business situation worldwide and things look good for next year," said Managing Director Günter Kech at the press conference on October 30, 2019. We are concentrating on the customer and not on ourselves, making decisions promptly and via short communication channels, establishing relationships during the customer visit and always trying to find innovative solutions for our customers. In this way, Vega has repeatedly found new approaches that have successfully established themselves on the market.
Author: Andrea Schlichting, trade journalist
Further information:
www.vega.com