Hardly any other industry is under such cost pressure as the food industry. As if that were not enough, the shortage of qualified skilled workers is adding to the challenges facing companies. Stäubli will be providing one possible answer to this at Interpack in May: customized robotic solutions for food safety in primary and secondary packaging.
Thanks to decades of experience in the food industry, Stäubli Robotics knows exactly what producers and end customers want. They are looking for hygienic design solutions with high performance, which at the same time requires flexibility and safety. Dynamics and precision – factors that all robot solutions from Stäubli today reliably master – are only one side of the coin. What counts at least as much is compliance with the strictest hygiene specifications, especially of course in contact with open food.
Dirk Burhenne, Business Development Manager Food at Stäubli Robotics, knows the special requirements in this industry: "Ultra-fast robots in wash-down hygienic design with the lowest possible particle emissions are in demand. In addition, the machines must not cause any contamination of the food, which requires the use of food compatible lubricants of class NSF H1 – without restricting the dynamic values, of course."
Automation solutions for pet food production
Hygiene requirements are also high in pet food production – although not quite as pronounced as in food production. Singer & Sohn, a machine manufacturer specializing in the food industry, has developed a fully automated plant with a pet food manufacturer. How was Stäubli able to support here? A food grade six-axis robot in a wet room design scrapes fresh treats off the sheet metal after the drying process and then feeds them back into the transport trolley. Why did the plant manufacturer choose a Stäubli TX200 HE? Christian Singer answers: "The robot works with high positioning accuracy, the kinematics are extremely stiff, and the HE design is absolutely resistant to the intensive cleaning processes that frequently occur."
Since project implementation, the system has been running stably and highly efficiently. Every day, more than 8,000 sheets with more than 20 tons of pet food are processed automatically.
Food grade robots for aseptic production
At Interpack booth C37 in Hall 15, Stäubli will be presenting its HE series for precisely these applications. HE stands for Humid Environment and identifies all robots that are specially modified for use under liquid exposure, i.e. also for wash-down cleaning processes.
All robots in this class are fully enclosed and designed to IP67 protection when using a positive pressure unit. The wrist of the machine is waterproof. Especially helpful: the vertical cable feed-through, splash-proof under the foot.
Best of all, all Stäubli automation solutions are now available in the food-grade version. This includes the SCARA robots of the TS2 series, which are particularly well suited for packaging processes thanks to their impressive dynamics.
Interpack demo cell makes performance visible
At Interpack, the manufacturer will demonstrate what Stäubli robots can do in practice with a demo cell in which four- and six-axis robots work hand in hand. A TX2-60 six-axis robot takes over the cutting processes for portioning meat and cheese products, while primary packaging is performed by a super-fast TS2-60 SCARA.
With its presence at the trade fair, Stäubli underlines its expertise in the realization of hygienic design solutions where high performance, flexibility and safety are paramount.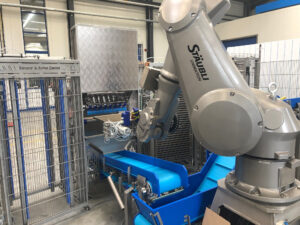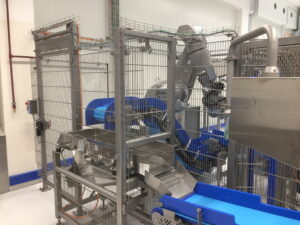 At Singer & Sohn, the Stäubli HE six-axis robot guides the trays with the treats into the stripping station. Left: one of two docking stations for the transport carts with the trays.
The stripped treats are taken off via conveyor belts, collexted in boxes and fed to the final packaging.
More Information: www.staubli.com