REHAU: a strong partner for joiners and interior designers
From 18 to 21 March, interior designers and joiners attending HOLZ-HANDWERK in Nuremberg can come to Stand 305 in Hall 10.1 to check out REHAU´s array of new products and their workmanship, along with the many services offered by the company – and to soak up inspiration for their own furniture creations. What´s more, a very special event is planned for 19 March – the day devoted to apprentice joiners. At its stand at the trade fair, REHAU will crown the winners of the design competition that the company held in collaboration with Meisterschule Ebern.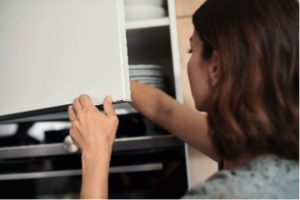 100% adhesive-free, durable, robust: the new RAUKANTEX plus
With the next generation of RAUKANTEX plus, REHAU is redefining its entry-level product for processing edgebands with zero adhesives. The newly developed RAUKANTEX plus, based on TPU, is a top-quality product to meet the most exacting requirements, combined with REHAU´s comprehensive service packages, such as a roll-out service for any quantity/any length, or 24-hour ex works delivery. These edgebands are also remarkably UV-resistant and firm. RAUKANTEX plus is an ideal entry-level solution for producing invisible-joint furniture components, and is perfect for all joiners currently working with EVA edging. The advantages are clear: no glue pot balanced on your machinery, no smears on the components and less cleaning. The new RAUKANTEX plus offers even more benefits at an attractive price, and is available quickly, even in very small quantities.
The RAUKANTEX edging range offers the perfect edging solution for any joiner or interior designer. High quality for traditional glue-based processing with RAUKANTEX pure, or flawless invisible joints, 100% adhesive-free, with RAUKANTEX plus and pro. RAUKANTEX pro remains the cream of the crop for perfect, durable invisible joints, thanks to its tried-and-trusted industrial quality.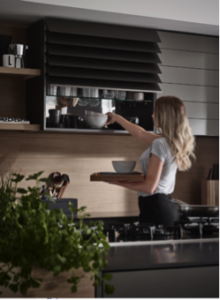 FLIPDOOR – the art of storage
REHAU is unveiling its new FLIPDOOR storage solution to its target group of carpenters and joiners for the first time. With decorative elements and materials that match REHAUís RAUVISIO crystal surface material perfectly, the new FLIPDOOR storage solution is created from slats made from glass laminate. The successful design of this smart cupboard solution provides interior designers with a product that goes a long way towards fulfilling customers´ dreams of a unique interior, and is a genuine alternative to traditional cupboard solutions such as flap doors, swing doors or standard cupboard doors. Joiners will find the dimensions, and a selection of colours, for the cabinet and the fronts in the configuration tool. The cupboard is delivered fully assembled, and invoicing is handled via the usual retail distribution channel.
Passion for colour: REHAU´s unique trend collection
REHAU´s innovative RAUVISIO surface materials combine functionality with extreme durability and countless design options. Whether you´re looking for front panels for a kitchen, bathroom, or living room, or you´re creating interior fittings for an office, restaurant or shop, REHAU´s polymer surfaces are guaranteed to help interior designers and joiners turn creative ideas into a reality. The topic of surfaces is inextricably linked to international trends in the world of interior design. REHAU´s "Passion for colour" concept sees the company position itself as a trendsetter in the furniture industry with regard to colour. After an in-depth trend analysis, REHAU creates a collection annually that defines the year´s trends. "Passion for colour 2020" sees REHAU bring the unique magic of the volcanic island of Iceland to the field of interior design. Six colours represent its breath-taking natural scenery, legends as old as time ñ and the country´s hip capital, Reykjavik, with its buzzing atmosphere. The new colours go wonderfully with each other, but they also slot into a wide range of different styles. REHAU has created various examples to inspire customers by revealing the impact these colours have on interiors: whether youíre going for a Scandinavian touch with light-coloured woods, an industrial-inspired design with metal accents or a minimalist, sophisticated look, "Passion for colour 2020" gives you the space to show off your creativity.
Slick services
As well as offering its customers an extensive portfolio of outstanding products, REHAU also provides a range of services to guarantee that projects can be executed smoothly and swiftly, in line with the motto of "idea, project, success".
Hall 10.1 Stand 305.